Ever wonder what makes up the addictive boba balls at the bottom of boba tea? As it turns out, those chewy black pearls are a combination of tapioca and brown sugar.
For the uninitiated, boba tea generally starts with a base of green, black, oolong, or other flavored teas, followed by the addition of condensed milk or whole milk.
Popularized in Taiwan during the 1980s, boba tea has evolved from a simple milk tea beverage into a culture of its own.
Nowadays, boba tea is most often found at specialized boba tea cafes and at Vietnamese restaurants. Customers often choose to add different fruit juices or syrups. Another option is adding jelly, which is formed into small cubes, stars, or rectangular shapes and is flavored with coconut, lychee, grass, mango, or coffee.
This chilled treat is as refreshing as an oasis during the desert summer months but can be enjoyed any time of year. Here's our list of where to find boba in Tucson.
https://www.instagram.com/p/BsCRZJBjfkb/?utm_source=ig_embed&utm_medium=loading
Bing's exemplifies just how many drink combinations are possible with boba. They serve creamy milk tea, fresh-brewed iced tea, sweet fruit teas, and the ice-blended snow smoothie — to name a few. Add-ins range from regular boba pearls to more adventurous ingredients, such as taro custard pudding and azuki red beans.
For more information, visit bingsbobatea.com.


Okinawa Milk Tea at Teaholic (Credit: Chelsey Wade)
This place is a boba-filled dream come true. It comes complete with comfortable purple velvet chairs, vases of peonies on each table, and an incredible selection of boba.
The owners recommend the cold red grapefruit tea or the Okinawa milk tea with black tea and black sugar. Black sugar is an unrefined sugar from Okinawa, Japan that's similar to molasses, but not as thick and with a milder taste.
For more information, visit Teaholic. 
#chatime #bubbletea
A post shared by shayne ? (@ssha_yne) on

The clean, open space has paintings of cherry blossom branches on the walls, making it a perfect place to cool down.
Regulars love the Rose Green Milk Tea and Honey Roasted Milk Tea for how well it balances with the boba. Another favorite is their refreshing juices — choose from Yogurt Lemon Juice or Kumquat Lemon Juice for a tart pick-me-up.
Keep up with Chatime on Facebook.
https://www.instagram.com/p/BgcZPVnlB1c/
This is a great place for ice-cold Jasmine Green Milk Tea with boba. (Their boba is pleasantly soft, compared to the rest).
Bright green walls, large wooden tables, and fun knick-knacks make for a relaxed and enjoyable atmosphere. 
Keep up with 7 Degrees on Facebook.
Eskimo – almond/vanilla/boba. Did you get your boba fix today? ?
A post shared by Boba Tea Company (@bobateacompany) on

This menu pokes fun at boba with sections called "Nuditea" and "Naughtea." Not only are they cheeky, but they also prepare their boba fresh in a kettle every day, making it soft and chewy. 
Order the Geisha with matcha, vanilla bean, half and half, green tea, and your choice of two bottoms (aka flavored boba).
Keep up with Boba Tea Company on Facebook.
Slushies are 100% necessary when it's over 100 degrees out.
A post shared by Rose Barnett (@chatterboxrose) on

This tea house is popular for drinks like Mango Green Tea with Lychee Jelly and for having board games. With lots of different flavors and add-in options, the friendly staff can help you find something that fits your taste. 
Keep up with Lucky's Boba Tea on Facebook.

A post shared by Cesya Palmer (@lazerwitch) on

Miss Saigon isn't just a popular pho spot. The Vietnamese cuisine joint also serves various colorful boba drinks. You can find teas, such as Almond Boba Tea and Taro Milk Tea.
Taro is a tropical Asian plant. The root vegetable grows purple in color and has a sweet, nutty taste that pairs well with pho.
For more information, visit misssaigontucson.com.
#taroboba #tucsonarizona #tucson ##bobatea #uofa #downtowntucson #localtucson
A post shared by Frozen Delight (@frozendelight520) on

Frozen Delight serves frozen yogurt, ice cream, and boba tea. Craving Horchata Boba? Or a decadent Chocolate Chip Mint Snow? This local shop has friendly service, plenty of seating, and unique boba flavors.
For more information, visit frozendelight520.com.
Watermelon bubble tea
A post shared by Kelly D (@phatgirlsfood) on

For convenient Vietnamese food, check out former food truck Vina Vietnamese. Pair their popular Lemongrass Chicken Sandwich with a flavored fruit tea, milk tea, or smoothie with boba for a truly authentic experience. Try the Coconut or Matcha.
Keep up with Vina Vietnamese Street Food on Facebook.
Hong Kong Style Milk Tea at Nomico Healthy Desserts (Credit: Chelsey Wade)
Known for their mesmerizing teardrop cake, which holds its shape by seaweed instead of gelatin, Nomico also has an assortment of boba flavors amongst their Asian dessert menu. They keep their boba drinks simple and don't add any additional sugar, artificial flavors, or powders.
Try the Papaya Milk Tea with boba for a summery, refreshing delight, or the Hongkong Style Milk Tea for a subtle tasting tea filled with soft, gummy-like boba pearls.
Coconut Vanilla Latte O My Buns Tucson, AZ #adventuresthrucoffee #omybuns
A post shared by Adventures Thru Coffee (@adventuresthrucoffee) on

This coffee bun dessert restaurant entices customers by putting a spin on the classic boba drink. Add boba to a yogurt smoothie, slush, or soda.
Flavors like Coconut, Pineapple, or Mango will have you dreaming of a tropical paradise — and you can custom mix them. 
For more information, visit omybuns.com.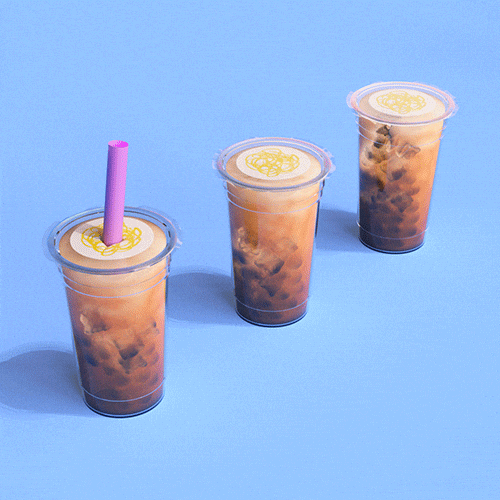 Taro Boba Tea at Sushi To Go & More (Credit: Chelsey Wade)
Sushi To Go offers almost every type of sushi imaginable, croissant sandwiches, and a few classic options for boba. Sit at a hightop table and get a fruity boba tea — flavors include mango, passion fruit, banana, strawberry, green tea, and taro.
Keep up with Sushi To Go & More on Facebook. 
Thai Pearls at Dao's Tai Pan's (Credit: Chelsey Wade)
Vietnamese, Thai, and Chinese cuisine is served as well as a surplus of boba choices. Add boba to exotic blended fruit drinks, such as guava, jackfruit, lychee, or the South American soursop. They also sell house specialty drinks like the mild Thai Pearls (creamy iced tea with tapioca pearls).
Keep up with Dao's Tai Pan's on Facebook.

Posted by Pho Can Tho on Friday, February 9, 2018
Boba flavors include honeydew, mango, strawberry, taro, jasmine, Thai tea.
Enjoy the drink as a dessert (it's topped with whipped cream) or to quench your thirst.
Keep up with Pho Can Tho on Facebook.
Facade at Ni Hao Tea (Credit: Jackie Tran)
This eastside tea house has a tentative opening date for January. Keep up with Ni Hao Tea on Facebook for updates.
Read our December 2019 article Boba shop "Ni Hao Tea" to open on Broadway & Swan.
[This article was originally published on September 10, 2018, and most recently updated on January 23, 2020.]
Chelsey Wade has traveled to 22 countries in search of the perfect fish & chips. She spends her time hiking the trails of Tucson and taking care of her five-pound Chihuahua.
That's not thunder you hear. Monsoon season is over. That rumble in the distance…
The first Friday of every June is National Doughnut Day, but you don't need…
All throughout southern Arizona, there's an incredible selection of wineries and tasting rooms, much…
View all events
10dec(dec 10)6:00 pm26(dec 26)10:00 pmWinterhaven Festival of Lights6:00 pm – 10:00 pm (26) Arizona Winterhaven
Once again, the annual Winterhaven Festival of Lights is lighting up midtown Tucson during 6 – 10 p.m. from Saturday, December 10 – Monday, December 26. Throughout the Festival of
more
Once again, the annual Winterhaven Festival of Lights is lighting up midtown Tucson during 6 – 10 p.m. from Saturday, December 10 – Monday, December 26. Throughout the Festival of Lights, everyone's encouraged to bring non-perishable food or monetary donations to the event for the Community Food Bank of Southern Arizona.
Most needed items include:
10 (Saturday) 6:00 pm – 26 (Monday) 10:00 pm Arizona
Winterhaven
3334-3398 N. Christmas Ave.
CalendarGoogleCal
20dec5:30 pmTucson Foodie and Maynards Presents: A Chinese Sonoran Christmas Feast5:30 pm Arizona Maynards Market & Kitchen
Chef and artist Feng-Feng Yeh (the brainchild behind the Chinese Chorizo Festival) will be partnering with local Indigenous chef Rusty Ramirez to bring us a special Chinese X-mas dinner. The dinner
more
Chef and artist Feng-Feng Yeh (the brainchild behind the Chinese Chorizo Festival) will be partnering with local Indigenous chef Rusty Ramirez to bring us a special Chinese X-mas dinner.
The dinner will be focused on Chiltepin's native culinary heritage to the southwest while exploring how it can be utilized to evoke Chinese cuisine. This union of Indigenous and Chinese cuisine will tell an intersecting story of resilience of the peoples of Tucson.
OF NOTE:
Check out the awesome menu:

 
(Tuesday) 5:30 pm Arizona
Maynards Market & Kitchen
400 N. Toole Ave.
CalendarGoogleCal
20dec5:45 pm6:45 pmSunset Yoga at Westbound5:45 pm – 6:45 pm Arizona Westbound
Join Westbound for relaxing sunset yoga every Tuesday at the MSA Annex. Cost: $10 includes the full session plus a draft drink (wine, beer, or cocktail) included.
Join Westbound for relaxing sunset yoga every Tuesday at the MSA Annex.
Cost: $10 includes the full session plus a draft drink (wine, beer, or cocktail) included.
(Tuesday) 5:45 pm – 6:45 pm Arizona
Westbound
267 S. Avenida del Convento #12
CalendarGoogleCal
03jan5:45 pm6:45 pmSunset Yoga at Westbound5:45 pm – 6:45 pm Arizona Westbound
Join Westbound for relaxing sunset yoga every Tuesday at the MSA Annex. Cost: $10 includes the full session plus a draft drink (wine, beer, or cocktail) included.
Join Westbound for relaxing sunset yoga every Tuesday at the MSA Annex.
Cost: $10 includes the full session plus a draft drink (wine, beer, or cocktail) included.
(Tuesday) 5:45 pm – 6:45 pm Arizona
Westbound
267 S. Avenida del Convento #12
CalendarGoogleCal
03jan6:30 pm8:30 pmVeggie Monthly Dinner & Conversation at Lovin' Spoonfuls6:30 pm – 8:30 pm Arizona Lovin' Spoonfuls Vegan Restaurant
Grab a delicious vegan meal and maybe make a new friend! Feel free to arrive between 6:30 and 7:00 pm. It is a casual dinner and conversation meetup, open to everyone
more
Grab a delicious vegan meal and maybe make a new friend!
Feel free to arrive between 6:30 and 7:00 pm. It is a casual dinner and conversation meetup, open to everyone (bring your friends). Tables are reserved along the wall to the left.
The food is FANTASTIC! Lovin' Spoonfuls is Tucson's first all vegan restaurant, and vegans, vegetarians, and omnivores all rave about the food. If you have never tried it before, you are in for a treat! There are so many wonderful dishes on the menu that you could come to this event for years and never have the same dish twice!
Sometimes, if there is a large turn-out between the meetup and other patrons, there may not be enough seating in the restaurant. Because of that, we have to cap this event, so that also means RSVPs count. Don't RSVP unless you are going, and if you later change your mind, change your RSVP to "no" so someone else can go. Abusing this by RVSPing "yes" and not showing can lead to a ban from other events in the future. Sorry to be strict, but it is necessary so everyone can benefit.
Finally, there may not always be a meetup host present for this event.
(Tuesday) 6:30 pm – 8:30 pm Arizona
Lovin' Spoonfuls Vegan Restaurant
2990 N. Campbell Ave. #120
CalendarGoogleCal
06jan5:00 pm9:00 pmBrewin at the Chul5:00 pm – 9:00 pm Arizona Tohono Chul Garden Bistro
Welcome to fall! Come enjoy Tohono Chul's first-ever autumn series, Brewin at the Chul, located at The Garden Bistro! Join on Fridays and Saturdays from 5 to 9 p.m. October 1
Welcome to fall! Come enjoy Tohono Chul's first-ever autumn series, Brewin at the Chul, located at The Garden Bistro!
Join on Fridays and Saturdays from 5 to 9 p.m. October 1 through November 26 for music, refreshing spirits, local brews, and a rotating menu of tasty bites.
Enjoy beers and brats, friends and fun at the Garden Bistro Fridays and Saturday nights. Check out the menu.
(Friday) 5:00 pm – 9:00 pm Arizona
Tohono Chul Garden Bistro
7366 N Paseo Del Norte
CalendarGoogleCal